Shepherd's pies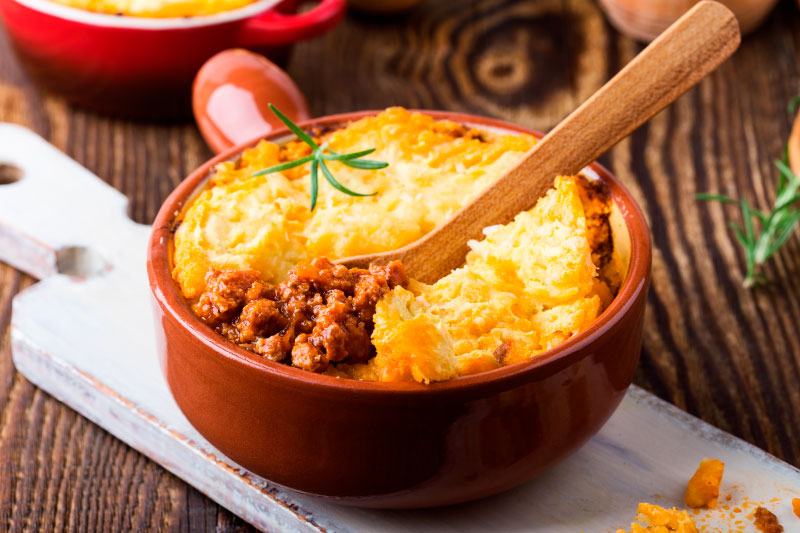 Prep Time: 15min
Cooking Time: 50min
Makes: 4
Ingredients
1 tbsp olive oil
1 brown onion, finely chopped
1 carrot, finely chopped
2 celery sticks, finely chopped
2 garlic cloves, crushed
500g Coles Australian Lamb Mince
2 tbsp plain flour
1 cup (250ml) beef stock
2 tbsp Worcestershire sauce
1 tbsp tomato paste
1/2 cup (60g) frozen peas
3 brushed potatoes, peeled, coarsely chopped
1 swede, peeled, coarsely chopped
40g butter, melted
1/4 cup (60ml) milk
1/2 cup (60g) coarsely grated cheddar
20g butter, melted, extra
Method
Step 1
Preheat the oven to 200°C.
Step 2
Add the olive oil to a large pan. Fry the carrot, garlic, celery and onion over medium heat, stirring occasionally. Cook for approximately 5 minutes or until the onion is tender and transparent, then add the lamb mince.
Step 3
Fry the lamb mince for a further 5 minutes until it starts to brown. Use a wooden spoon to soften any lumps.
Step 4
Gradually add the flour a little at a time, stirring until well combined with the mince. Add the tomato paste, Worcestershire sauce and stock. Cook for a further 10 minutes. When the sauce begins to thicken, take the pan off the heat and add the peas. Stir to combine and season with salt and pepper.
Step 5
While the lamb mixture is cooking, boil the swede and potato in a medium saucepan for approximately 15 minutes or until soft and cooked through. Remove any excess water, then stir in the butter until completely melted. Mash the swede and potato well with a fork or potato masher, removing any lumps. Add the milk, stirring well, then add salt and pepper to taste.
Step 6
Pour the meat mixture into four 375-ml ovenproof dishes or ramekins, and add a little of the grated cheddar cheese on top. Layer some of the potato mixture over the cheese, dividing equally between each dish. Use a pastry or basting brush to glaze the top of the potato mixture with a little melted butter.
Step 7
Set the dishes on a baking tray and cook in the oven for 25-30 minutes or until the pies begin to turn golden on top and the middle is piping hot all the way through.