Salmon Mornay Baked Potatoes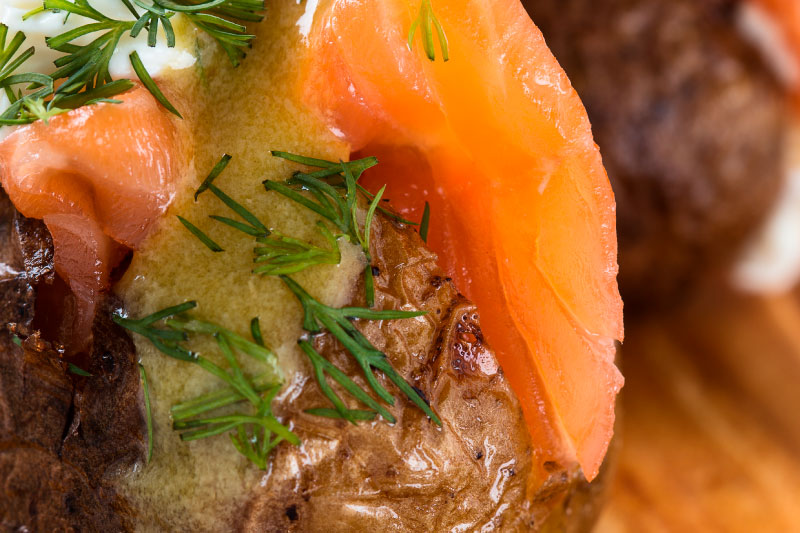 Prep Time: 15min
Cooking Time: 1hr 40min
Makes: 6 Servings
Ingredients
3 large (300gm each) potatoes
60ml (1/4 cup) milk
50gm butter at room temperature
410gm can salmon, drained, flaked
425gm tub cheese pasta sauce
1tbsp chopped fresh chives (and extra to serve)
Method
Step 1
Preheat the oven to 200°C.
Step 2
Wash the potatoes thoroughly, but do not peel. Prick a couple of holes in the skins and arrange the potatoes directly on the oven rack. Cook until the skins are crispy and the flesh is soft, about 90 minutes. Set potatoes aside to cool for 10 minutes.
Step 3
Cut the potatoes in two, slicing lengthways. Use a large tablespoon to spoon out the flesh of each half, then transfer the filling to a sieve. Set the potato skins aside and allow to cool.
Step 4
Place a sieve over an empty bowl and use the spoon to force the potato filling through. Add the butter and milk to the potato, then whisk until all lumps are removed. Scoop the mixture into a piping bag and attach a fluted nozzle.
Step 5
In a medium-sized bowl, mix the cheese pasta sauce, chives and salmon together. Set the potato skins on a lined baking tray and scoop a little of the salmon mixture into each one. Pipe the potato mixture over the salmon, then add a dollop of butter on top.
Step 6
Bake in the oven for about 10 minutes or until the filled potatoes are piping hot all the way through. Then move the potatoes to the grill and cook under high heat for approximately 1-2 minutes, or until the tops turn golden. Serve hot with the chives sprinkled on top.