Potato and Spinach Frittata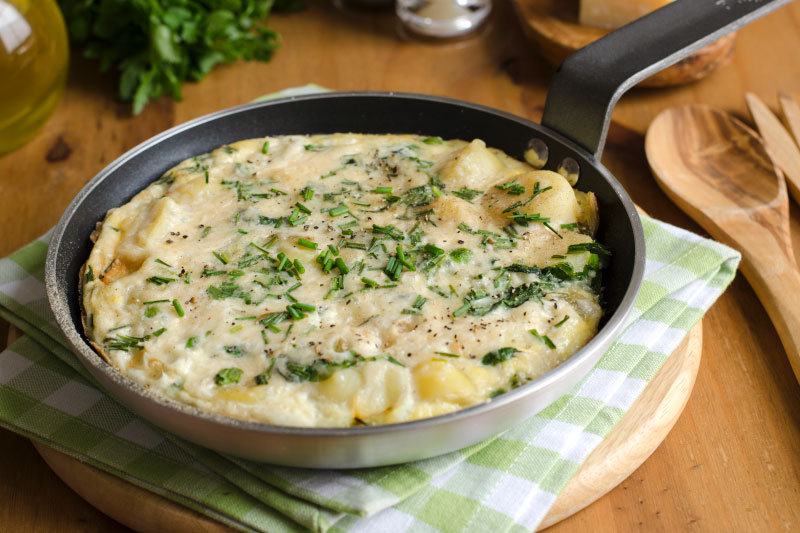 Prep Time: 10min
Cooking Time: 20min
Makes: 4 Servings
Ingredients
400gm washed potatoes, peeled, cut into 3cm pieces
1tbsp olive oil
80gm baby spinach leaves
4 eggs
2 egg whites
1 garlic clove, crushed
Salt & freshly ground black pepper
Method
Step 1
Preheat the oven grill to high.
Step 2
Bring a large saucepan of salted water to a boil and add the sliced potatoes. Cook for 7-8 minutes or until the potatoes have softened, then drain and set on a plate. Pat with a paper towel to remove any excess moisture.
Step 3
In a large non-stick frying pan, heat the olive oil over medium-high heat. Add the potato slices and fry for approximately 5-6 minutes, flipping occasionally so the potatoes are browned on both sides. Reduce to medium heat, then stir in the baby spinach and cook for a further 2 minutes until the leaves are wilted.
Step 4
Combine the egg whites, garlic and eggs in a medium-sized jug and whisk well. Add salt and pepper.
Step 5
Add the egg mixture to the frying pan and cook over medium heat for approximately 4-5 minutes, until the frittata is still liquid in the middle but starting to solidify and peel away at the edges. Move the frying pan to the grill and cook under high heat for a further 3-4 minutes, until the frittata is fully set and golden on top. Slice the frittata into thick quarters and serve hot or cold.