Massaman Sweet Potato Curry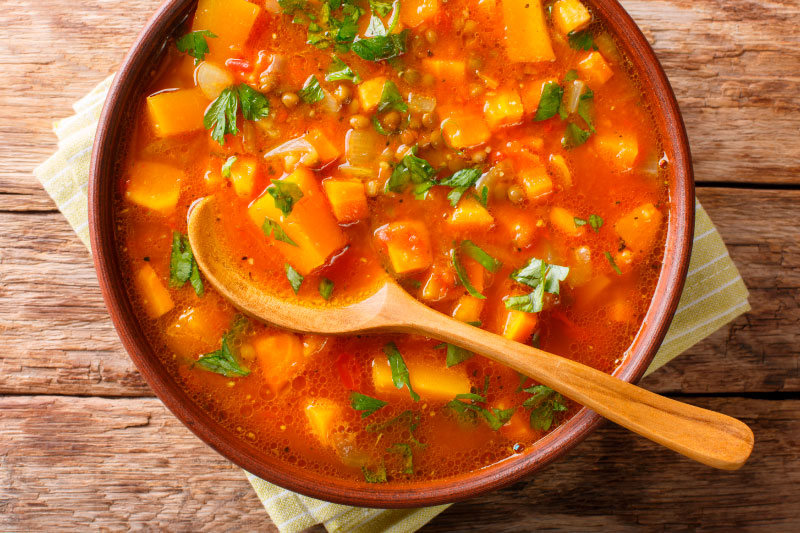 Prep Time: 5min
Cooking Time: 20min
Makes: 4 Servings
Ingredients
1tbsp peanut oil
1 brown onion (finely chopped)
80gm (1/3 cup) massaman curry paste
270ml can coconut milk
250ml (1 cup) Massel Vegetable Liquid Stock
800gm sweet potato, peeled, cut into 3-4cm pieces
400gm can chickpeas, rinsed and drained
60gm baby spinach
2tbsp unsalted roasted peanuts (coarsely chopped) to serve
1 fresh red chilli (sliced) to serve
4 small naan breads (warmed)
Method
Step 1
Heat the peanut oil in a large frying pan over medium heat. Add the onion and cook for approximately 4 minutes or until soft and translucent. Stir in the Massaman curry paste and cook for a further minute.
Step 2
Remove 2 tbsps of the coconut milk from the can and set aside. Add the rest of the coconut milk to the onion and curry paste mixture. Gradually add in the stock and stir until well combined.
Step 3
Stir in the chickpeas and sweet potato, then cover with the saucepan lid. Cook over high heat until the mixture starts to simmer, then leave to simmer on medium-high heat for approximately 15 minutes. When the sweet potato is soft, stir in the baby spinach and cook for another 2-3 minutes until the leaves are wilted.
Step 4
Dish the curry into bowls and top with a little of the leftover coconut milk. Garnish with the chopped peanuts and sliced chilli, then serve hot with naan bread. Alternatively, for a stronger flavour, leave the curry overnight and serve the next day.