Creamy Leek, Potato and Bacon Soup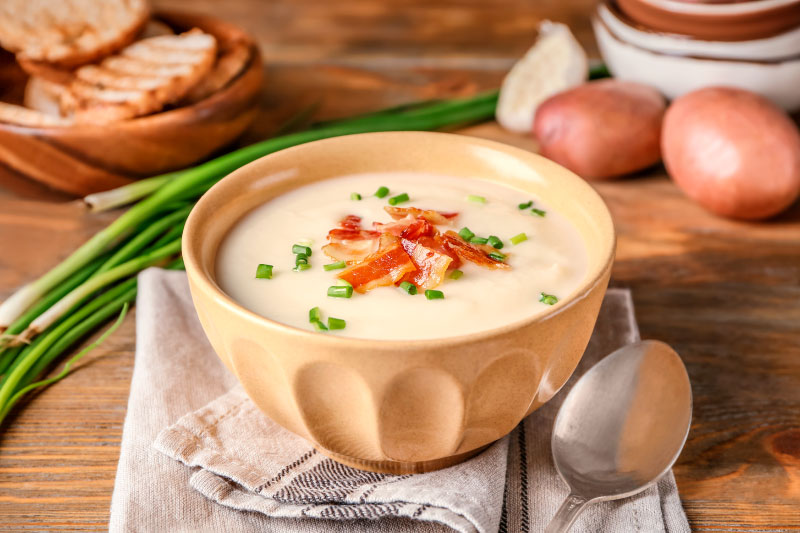 Prep Time: 20min
Cooking Time: 30min
Makes: 4 Servings
Ingredients
20gm butter
1 leek, pale section only, halved, coarsely chopped
1 brown onion, coarsely chopped
2 celery sticks, coarsely chopped
2 large potatoes, peeled, coarsely chopped
5 cups (1.25L) chicken stock
1/2 cup (125ml) thickened light cream
200gm pkt Primo Real Diced Bacon
Sour cream, to serve
Chopped fresh chives, to serve
Toasted Turkish bread, to serve
Method
Step 1
Use a large saucepan to melt the butter over medium heat. Add the chopped potato, onion and leek and fry for 5 minutes until the onions are transparent and the leeks are soft, stirring continuously.
Step 2
Stir in the chicken stock and thickened cream. Cook over medium-high heat until the mixture starts to boil. Then reduce to low heat and leave to simmer for approximately 25 minutes or until the potatoes are cooked. Remove from the heat and allow to cool slightly for 10 minutes. With a stick blender or food processor, pulse the mixture until the soup is completely smooth and free of lumps.
Step 3
While the stock is simmering, fry the diced bacon in a medium frying pan over medium heat. Cook for approximately 5 minutes or until the bacon turns crispy. Remove about a third of the bacon pieces and stir into the soup.
Step 4
Serve the soup hot in bowls and drizzle with a little sour cream, then top with the chives and the leftover bacon pieces.