Chargrilled Potato Salad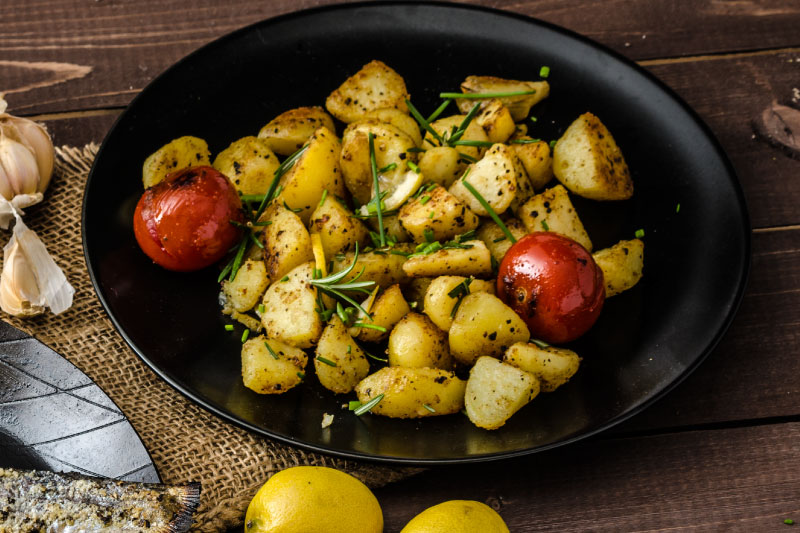 Prep Time: 15min
Cooking Time: 20min
Makes: 6 Servings
Ingredients
1kg kipfler or creamy brushed potatoes
2 red capsicums, seeded, quartered
1/2 cup coriander leaves
1/2 cup flat-leaf parsley leaves
1/2 cup mint leaves
2tbsp coarsely chopped oregano
1 garlic clove, crushed
1/4 cup (40gm) pine nuts, toasted
1/3 cup (25gm) finely grated parmesan
1tbsp red wine vinegar
1/3 cup (80ml) olive oil
2 chorizo sausages, thinly sliced diagonally
250gm vine-ripened cherry tomatoes
120gm pkt Australian Baby Rocket
Method
Step 1
Preheat the oven grill to high.
Step 2
Wash the brushed potatoes thoroughly, but do not peel. Place in a large saucepan of boiling water and cook over high heat for approximately 10 minutes or until the potatoes are slightly softened. Drain and set aside to cool.
Step 3
Arrange the sliced capsicum on a baking tray with the skins facing up. Grill under high heat for approximately 5-7 minutes or until the skins begin to blister and turn black. Remove the capsicums and set aside in a heatproof dish. Cover with cling wrap and allow to cool for 5 minutes, then peel the skins back and slice the remaining capsicum into small pieces.
Step 4
Combine the oregano, garlic, mint, parmesan, parsley, pine nuts, vinegar and coriander in a food processor and pulse until the mixture is finely ground. While the processor is still on, pour in the olive oil and process until well mixed. Season with salt and pepper to taste.
Step 5
Preheat the chargrill to medium-high.
Step 6
Halve the potatoes, slicing lengthways, then spray each half with a little olive oil. Arrange the potato halves under the chargrill and cook for approximately 4 minutes, turning halfway through. Remove the potatoes and set aside.
Step 7
Chargrill the tomatoes and chorizo under medium-high heat for approximately 2 minutes or until the tomatoes are softened and the chorizo turns golden. Turn regularly to ensure even cooking. Remove from the heat and add to a large bowl alongside the capsicum, rocket, potato and 2 tbsps of the pesto. Serve warm on a platter and garnish with the leftover pesto.