Basic Potato Gnocchi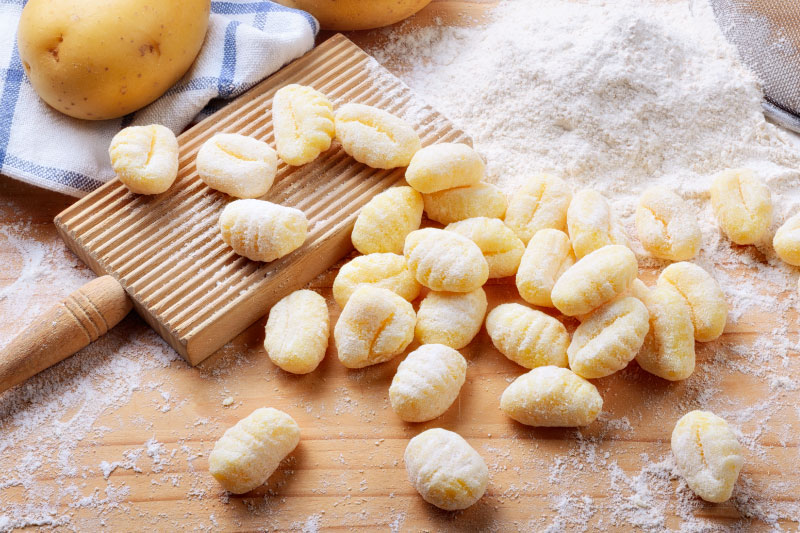 Prep Time: 20min
Cooking Time: 1hr 15min
Makes: 1
Ingredients
1kg pkt Carisma Potatoes
1 Free Range Egg Yolk
1/4 cup (20g) finely grated parmesan
1 1/4 cups (185g) plain flour
Pinch of salt
Method
Step 1
Preheat the oven to 200°C and line a large baking tray with baking paper.
Step 2
Wash the potatoes thoroughly but leave the skins on. Arrange evenly in a single layer on the lined baking tray. Use a fork or knife to poke a couple of holes in the skin of each one. Bake the potatoes in the oven until the flesh is soft and the skin turns crispy (approximately one hour). Turn occasionally to ensure even cooking. Remove from the oven and allow to cool for 10 minutes.
Step 3
When the potatoes have cooled a little, use a knife to peel off the skins and then slice each potato into four. Place the quarters in a large heatproof dish and leave to cool completely.
Step 4
Mash the cooled potatoes with a fork or potato masher, until all the lumps are removed. Set a sieve on top of an empty large bowl. Spoon the mashed potatoes into a sieve a little at a time, then use a large spoon to force the mixture through the sieve and into the bowl.
Step 5
Add the parmesan, flour, salt and egg yolk to a small bowl and combine well. Add the egg yolk mixture to the mash, stirring until it comes together and takes on a dough-like consistency. Using your hands, work quickly to knead the mixture until firm. If the dough is too wet, add a tbsp of flour at a time until it becomes workable.
Step 6
Sprinkle a little flour on your work surface and then place the dough on top. Use your hands to work the mixture, kneading gently until there are no lumps. Slice the dough into four equal parts, then roll each part into a long rope, about 2 cm thick.
Step 7
Using a lightly floured knife, cut each portion into 3-cm sections and then roll each section into a small ball. If desired, decorate your gnocchi by placing a lightly floured fork on the worktop and rolling each piece over the prongs. Set the gnocchi on the lined baking tray until you're ready to cook it.
Step 8
Cook the gnocchi in batches. Boil in a large saucepan for 2-3 minutes or until the pieces start to float to the surface. Stir occasionally to ensure the pieces do not stick together. Remove with a slotted spoon and toss in a little melted butter to serve.